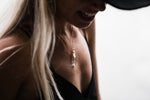 Guardian
 
Our Guardian collection is designed to show off the stunning and highly unusual  Guardian stones. With simple, geometric lines framing the gems, allowing them to be centre stage. The stones themselves are the highest quality and cut quartz and topaz, inlaid with 22k gold flakes which reflect the light, adding to the magic. 
The collection is handmade from recycled sterling silver and plated with 18k Gold. The stones are also well known for their healing qualities.

Clear quartz encourages positive thoughts and feelings, evoking balance and increased energy levels.
Prasiolite inspires creativity, attracting abundance, success and prosperity.
Pink amethyst, known as the divine love crystal and aids self love, intuition and acceptance.
Blue topaz is a calming and soothing stone, promoting feelings of joy. Great for communication too!
Smokey quartz is a grounding stone, perfect for reducing stress.